As the NBA Draft prospects prepare for feast week, it is time for another stock up stock down report. Who should OKC Thunder fans be keeping an eye on throughout the college basketball landscape this week?
The OKC Thunder are not buried in the NBA Standings by any means, in fact, they are staying afloat throughout the toughest opening stretch of games any NBA team has had to endure this season.
If they can continue to hang around, they will give hope to some of the optimistic OKC Thunder fans that a playoff push could be in store when beating up on the weaker teams in the NBA. However, must OKC Thunder fans are sticking to what this season has been about since the offseason trades that saw Russell Westbrook and Paul George land on two of the West's bests teams.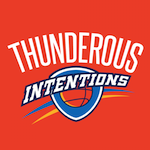 Want your voice heard? Join the Thunderous Intentions team!
Despite the scrappy Thunder hanging in the standings, and competing in every game, they still have a losing record. That is okay. This season was never about wins or losses. It was always about player development and the upcoming NBA Draft. OKC has held up their end of the bargain, seeing Hamidou Diallo and Shai Gilgeous-Alexander grow their games and show that they are both going to be around Bricktown for a long time.
I get it, it is Thanksgiving week. We are all getting ready to drift into a good comma featuring a magic mountain of Turkey, gravy, and pecan pie. With that comes NFL football, and that time of year that we are all forced to watch the Detriot Lions…yuck.
Some fans are not ready to check in on NBA Draft prospects, and I get that. But feast week should be your one exception. There is basically college basketball on during every waking moment, and in the past prospects have been able to elevate their draft stock with a huge turkey day week.