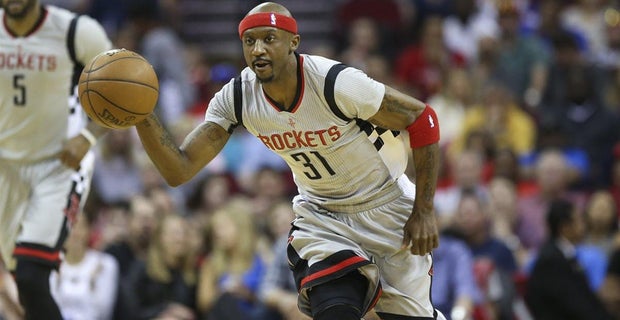 It appears that former Arizona Wildcat Jason Terry is looking at taking the next step in his career as Chris Haynes of Yahoo! Sports is reporting that Terry is exploring coaching opportunities at the collegiate and professional level.
Terry remains a fan favorite with the Wildcats from his successful career at Arizona and what he was able to accomplish as part of Arizona's only title team.
Terry played college basketball for Arizona from 1995 to 1999. As a sophomore on that championship team, Terry made 18 starts and was the Wildcats' fourth-leading scorer at 10.6 points (also averaged 4.4 assists and 2.5 steals).
Not a subscriber? Sign up now to get all the great information on the premium boards and all of the premium stories on WildcatAuthority.com! Click here to subscribe!
He was named Pac-10 Player of the Year and was an All-Conference First Team selection as a senior. He finished his career at Arizona ranked 12th in points (1,461), 5th in assists (493) and 2nd in 3-point field goals (192).
As it currently stands, Terry is the only player in Arizona history to finish with 1,000 career points and 200 career steals.
Terry is most known for his NBA stint in Dallas as he was named the NBA Sixth Man of the Year for the 2008–09 season. A sixth man in 63 of 74 games played in 2008–09, Terry averaged 19.6 points, 2.4 rebounds, 3.4 assists and 1.3 steals in 33.6 minutes.
He shot .463 from the field, .366 from beyond the three-point line and .880 from the free throw line. In addition, Terry ranked 10th in three-pointers made (167), 11th in free throw percentage, 17th in steals, and tied for 22nd in scoring average.
One year later, in the West Conference Semifinals against the Los Angeles Lakers, Terry scored a playoff-high 32 points in Game 4. His 9 3-pointers tied an NBA playoff and the Mavericks went on to advance to the NBA Finals for just the second time in franchise history.
In the 2011 NBA Finals, against the Miami Heat, Terry averaged 18.0 points, 2.0 rebounds, 3.2 assists, 1.3 steals and 32.5 minutes over the six games. He recorded 21 points, 4 rebounds and 6 assists in 30 minutes in Game 5 to become the first sub to record at least 20 points and 5 assists in a Finals game since 1987. Terry had a game-high 27 points in 34 minutes in the series-clinching Game 6 to claim his first NBA Championship.
Although Terry never officially retired from the league, he does not plan on playing unless he receives an unlikely call from the Dallas Mavericks or Los Angeles Lakers.
Should Terry get into coaching, he certainly would not be the first Wildcat to do so. Some names that have gotten into coaching include Steve Kerr (Golden State Warriors), Damon Stoudamire (Pacific), Bret Brielmaier (Nets), Matt Brase (Rockets), Luke Walton (Sacramento Kings), Miles Simon (Los Angeles Lakers) , Jason Gardner (IUPUI), Bruce Fraser (Warriors), Joseph Blair (Sixers).