After much speculation, the OKC Thunder finally was forced to make an official decision on NBA Draft Day.
The NBA Draft is a magical time for NBA Junkies who have ESPN Reporter Adrian Wojnarowski on Twitter Alerts all year around. There are so many moving parts that it will make even the most plugged-in NBA fan's head spin. The OKC Thunder and their fanbase were no different.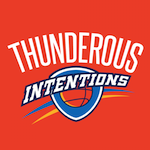 Want your voice heard? Join the Thunderous Intentions team!
After the team suffered yet another disappointing NBA Playoff run that ended really before it started at the hands of Damian Lillard and the Portland Trailblazers in the first round, all eyes turned to the offseason.
The OKC Thunder do not have the cap space to make a huge splash and improve their roster in the Free Agency Pool that opens next week. The organization also does not have a ton of trade assets.
A rehabbing Andre Roberson who will likely never return to his old form which was an elite defender who can be easily played off the floor due to his dreadful offensive game, Dennis Schroder and Steven Adams who are both owed a pretty penny and individually will not net enough of a return to surpass their production, at best maintain their level of production.
So with all of that out of the way, it is safe to say that Thursday Night's NBA Draft was the biggest night of the OKC Thunder offseason.
Thunder fans were thrown through a few loops on the windy road to the NBA Draft. The first report saw them promising their pick away to Matisse Thybulle, and having that report later debunked. Thunder fans were then led to believe the pick would be dealt away in an effort to shed salary. From there all bets were off, and the rumors were flying like hot cakes.
As the OKC Thunder went on the clock and a decision appeared imminent, once again Sam Presti put us in check trading the pick to the Memphis Grizzlies (or rather swapping the pick). This led to the Thunder selecting 23rd and the name announced was Darius Bazley.
Bazley is the player who declined multiple scholarships to college ball in favor of an internship with New Balance and is a Rich Paul client. The other interesting tidbit is part of the deal included a 2024 second round pick from Memphis.
In 2018, before he signed his "internship" that allowed him to spend the entire season working on his craft, Bazley was being recruited by Florida University, Georgetown, Ohio State, Louisville, and Syracuse, to name a few schools.
This is not the first time Sam Presti went the unorthodox route. Terrence Ferguson was playing overseason instead of electing to play college ball in the states before he was drafted by the Thunder.
One thing is still certain, Sam Presti will always leave people guessing.