Although the OKC Thunder aren't one of the teams in the NBA Finals, Russell Westbrook appears in a co-partnered ad with MIB International stars.
As for the OKC Thunder team leader, Russell Westbrook is active despite their season being over. He's undergone two medical procedures to get his body ready in order to prepare for next season. The first was another right knee cleanup deemed  "proactive maintenance".  The second was surgery to repair a torn ligament in his finger. Westbrook has partaken in several outings recently with black tape adorning his hand which is remnants from the surgery.
Although Westbrook would rather be playing his presence can still be felt via his copious public appearances. Even as the team missed out on a deep playoff run he is featured in a television commercial promoting the NBA Finals. There are two spots with Chris Paul playing an alien in the second commercial.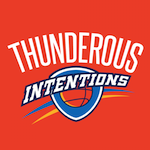 Want your voice heard? Join the Thunderous Intentions team!
Westbrook acts in NBA Finals Ad:
In the first NBA Playoff teaser spot, Russell Westbrook appears with actors Chris Hemsworth and  Tessa Thompson who are playing Agent H and Agent M respectively from the upcoming MIB (previously known as Men In Black) International movie.
The premise is Westbrook is a shapeshifting alien as he is trying on clothes and they keep changing while he's just standing there talking to them.
The youtube video shows the commercial below:
The ad starts with Westbrook looking in a mirror as the two actors enter what looks like a store. Thompson calls him the NBA MVP of fashion. Then Hemsworth clarifies it's Westbrook's closet they are in.  As we get a closer look at Westbrook he is sporting one of his own 'Honor the Gift" sweatshirts.
During the trio's exchange, Russell's clothes switch four times with his final outfit being one of the classic Men In Black suits. Westbrook puts on the black sunglasses and repeats the now infamous Will Smith line from the first movie "I make this look good".
At the end of the commercial, the supers change to announce the MIB International movie will be in theatres on June 14th, 2019 with tickets on sale now. This is followed with presented by the NBA Finals as the co-sponsoring partner of the movie.
Hey, we'd rather he was on the hardwood at this time of year, but it does speak to his popularity off the court. Cross your fingers that this time next year he'll be on the hardwood impressing us instead.