The 2019 NBA Playoffs are nearly wrapped up as the Finals arrive this coming week. Meanwhile, NBA 2K19 Galaxy Opal cards are dropping for several NBA Playoff heroes of the past. They include all-time Nuggets and Knicks great Carmelo Anthony, as well as former Portland Trail Blazers star Brandon Roy. Here are the latest details on these exciting new items in the MyTeam Throwback Playoffs Moments packs.
Carmelo Anthony headlines new NBA 2K19 Galaxy Opal cards
The man, the myth, the Melo is now a huge part of the MyTeam content thanks to a Galaxy Opal card. Anthony never quite got to the NBA Finals during his prime playing days. However, he still had memorable performances during his postseason runs with three different squads.
Anthony has a total of 72 games worth of playoff experience as he played in Denver, New York, and OKC. Melo averaged 24.5 points per game along with 7.1 boards and 2.6 assists through his postseason career. In terms of a great throwback moment with the Knicks, fans can check the box score for the April 19, 2011 loss to the Boston Celtics. Melo came up with an impressive 42 points and 17 boards in a three-point defeat.
The other Galaxy Opal card (below) goes to Portland star Brandon Roy. The former Trail Blazers All-Star was in three straight postseasons with the Blazers. That included an impressive throwback moment from the April 2009 series with the Rockets. During Game 2 of the contest, Roy achieved a playoff career-high of 42 points to go with seven rebounds. So he and Melo certainly seem deserving of these new top notch cards.
Joining the new Galaxy Opal recipients are Utah Jazz legends, John Stockton and Karl Malone. The duo teamed up for many memorable playoff appearances, including their infamous battles against Michael Jordan and the championship Chicago Bulls. NBA playoff history wouldn't be complete without them, although Jazz fans wish they were on the winning side of the NBA Finals.
How to get the new MyTeam player cards
Gamers have several options for how to obtain any of the new MyTeam player cards. One way is by purchasing the NBA 2K19 MyTeam Throwback Playoffs Moments packs. These are in the MyTeam Store at varying prices and only have a slight chance of pulling one of the top player cards like the Melo or Roy GOs.
Another way is to head to the NBA 2K19 Auction House, but make sure you have plenty of MT in your account. The in-game currency can be used to bid on and buy any of the cards found in the packs including the Carmelo Galaxy Opal (shown below). Prices are sky high for that card based on Melo's popularity and of course, the fact it's a Galaxy Opal card.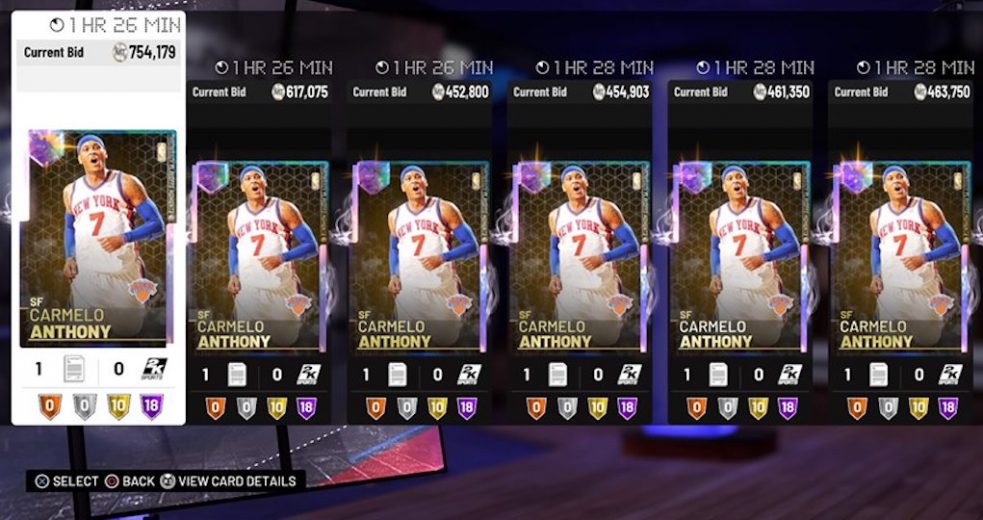 We've seen auctions for the Brandon Roy Galaxy Opal top 500,000 MT so far, but there was just over an hour remaining for the bidding. The 98 Pink Diamond John Stockton cards were sitting at 100,000 MT, while Karl Malone's 97 Pink Diamond was also around that level with over an hour to go on the auctions.
Longtime fans of Stockton and Malone will probably look to pair this duo up for their MyTeam lineups. Otherwise, having a player of Carmelo's caliber with a Galaxy Opal at the small forward spot in your MyTeam is going to give you a competitive edge. Of course, it won't be cheap, until NBA 2K19 releases the Carmelo Anthony into the Token Rewards market, or unless a lucky pack open is in your future.
Have you obtained any of the new cards and if so what are you doing with them? Get more of the latest NBA 2K news here.